Water
Deniliquin farmer hits the road to educate city people about basin plan issues.
By

Rodney Woods
---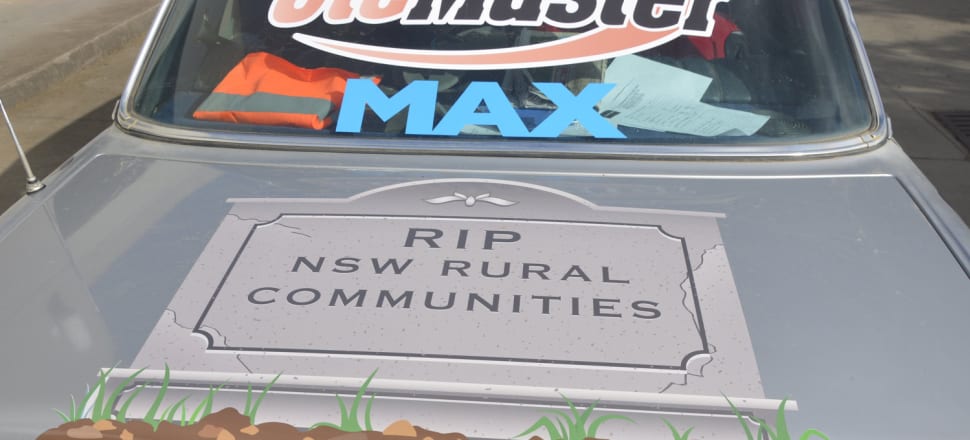 5370537724001
Deniliquin sheep and cropping farmer Greg Sandford is hitting the road in the hope of educating city people about the damage the Murray-Darling Basin Plan is causing to the region's food producers.
Mr Sandford has dressed up his late father's Mercedes to demonstrate the effects the plan is having on southern Riverina and Goulburn Valley farmers, while he participates in the 2019 Variety Vic Bash.
"The car (sides) have got a big monster and it is consuming industries and communities and towns in its path, and it is passing out environmental disaster and bankruptcy and depression and suicide," he said.
"That's basically the Murray-Darling Basin Plan in a nutshell. It's a disaster.
"The back of the car has a tombstone which says 'Rest in Peace New South Wales rural communities' and on the front we've got a bit of a statement on the plan itself."
Mr Sandford said he was hoping to get more voices pressuring governments about the situation they are facing.
"Farmers don't seem to be having much luck changing the politicians' minds, so once city people start realising the effects the Murray-Darling Basin Plan is going to have on their food supply and, in particular, the environment, hopefully they will start getting behind us as well.
"That's probably the main aim (of me doing this)."
"The government are eventually going to have to think about food security again because everything seems to be closing down and nothing can compete with the price of water and it's all going down to South Australia to grow almonds, which aren't a staple food.
"There really needs to be a royal commission into the handling of the Murray-Darling Basin Plan."
Mr Sandford was critical of governments at the state and federal level, questioning their intent when it comes to running water through the forest.
"They seem intent on doing all this environmental damage, running way too much water through the forest and just running it out to sea," he said.
"We can't work out what the government's agenda is. It just doesn't make sense.
"So I'm doing the Variety bash and I just want to get the conversation going and spread the word of just what's happening."
The 2019 Variety Vic Bash, which features over 500 people, started in Melbourne on August 20 and will conclude in Geraldton on August 29.